Indie Author News original source
I don't like Twitter. It's like spitting into the wind. Ok, maybe not as disgusting, but the reward is pretty much the same. What I don't get is how there are people out there who follow a kajillion people. Personally I follow more than I'd seriously like.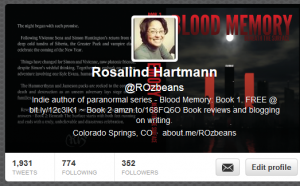 What does that say…774 following? Honestly, I use twitter to promote my book, which apparently according to this article I'm linking to, I'm not supposed to do that, or to curse vehemently and with great passive aggressiveness. The latter is very relaxing, I must say.
~~
What to tweet and not to tweet (for Authors)

– Do not sell your book!
Nothing annoys your followers more then asking them "Please buy my book", "Please, read my book", "Now only 99 cents" etc. Followers are quickly annoyed and will call this 'shameless' self-promotion. And you might think the same when reading only these kinds of tweets from people you are following and might decide to not follow these Tweeps anymore.

– Make yourself as Author interesting
Tweet about your writing and the progress of your new book project. Having received an amazing review, award, etc. Share the publishing process, provide tips for others. Share sale success etc. If you make yourself/your book interesting enough  your followers will probably investigate and buying your book and/or reviewing your book. (soft sale)
Let your followers know if your book has been featured, or you've done an Interview or a guest-post. Let them know about reading or signings, how to get freebies, etc.

– Get involved in discussions
You're seeing your followers discussing interesting topics – get involved. Or ask a question to start a conversation.

– Re-tweeting
If you see interesting or helpful tweets from others you'd like to share – RT (Re-Tweet) it to your followers. This helps interesting posts to get a wider audience. Your followers will RT your Tweets as well if they are interesting for them. Don't ask for RT's – your followers will re-tweet your tweets if your posts are good (interesting, helpful) enough for a RT.

– Using Hashtags (#)
Use Hashtags – so Tweeps who search for for a category or genre can easier find your tweets, like #thriller #para #ya #WritingTip etc. Don't overuse them – else tweets can be more difficult to read with to many hashtags.

– Build relationships with other writers
"Thanks for the RT" doesn't exactly build relationships. If someone retweets your tweet or mentions you, take the extra two minutes to check out their Twitter profile, see what they write, and comment on it in a tweet with a 'Thank you' included.
Fellow writers are mostly also readers and are great to have relationships with to share tweets, writing tips, found a beta reader group, etc. Do NOT use these relationships trying to sell them your books. (This can be seen a lot on Twitter)
~~
"- Do not sell your book!
Nothing annoys your followers more then asking them "Please buy my book", "Please, read my book", "Now only 99 cents" etc. Followers are quickly annoyed and will call this 'shameless' self-promotion. And you might think the same when reading only these kinds of tweets from people you are following and might decide to not follow these Tweeps anymore."
Then why the hell am I on Twitter, and why doesn't anyone else take this advice? I've removed people/companies that do NOTHING but schlep their books. Multiple posts daily with quotes from reviews (real or imagined, who knows) with links back to their books. At least a half dozen times A DAY. I try to do it maybe once every couple days, but I'm always amazed when people say, "Oh hey, when does your book come out?" or "You wrote a book?"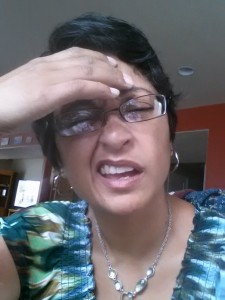 (This is me. Confused.)
More fun…
– Be honest. Have fun. Don't try to sell anything.
            Pretty sure this is said at least a dozen times in the article. I get it. I'm annoying.  Sheesh.
– Twitter about stuff that has to do with your blog, but also Twitter stuff that has nothing to do with your blog.
            On occasion I'll tweet about the F word and how I enjoy sunset pictures. I'm sure that's fascinating.
– Write each word like it matters, because it does.
             No it doesn't. This is twitter. Anything I say will be lost in the 1 billion people tweeting about Justin Bieber or Beyonce. Is Beyonce pregnant again? I bet she is.
– Don't follow more people than you can handle. If you've got too much going on, you miss a lot of the good stuff.
              Thank you. That one is gold, but there's that compunction to follow-back because the person took the time to follow you. Probably didn't read one single tweet out of the 10s of thousands of tweets other people have put out, but it's the follow-back thought that counts!
– Stop thinking that twitter is pointless and just try it. It's all about community, reach out and be a part of it.
               Did I just get reprimanded by an article? I think I did.
– Better to be friendly and positive than negative and critical in your Tweets
                Pfft. This is the internet. I'm pretty sure everyone read the 'Don't forget to be a mindless dick face' memo. I had to sign mine.
Maybe I'm being too negative about Twitter? I suppose it can be helpful. Personally, I'm shocked that the 'auto Direct-Message' offense was left out of this one.
– Don't sign up for one of those 'automatic Direct Message your new follower, plugging away at your mediocre product', because that shit is annoying. Don't DM me. I don't DM anyone. You DM me, you better have a fully written, 140 character love letter steaming up my inbox, because I have expectations when I get a private message, thank you! DMs. I really dislike them. Like, "Oh I dated him once, I really dislike his ass" dislike.
Just sayin'.
Come find me being passive aggressive on Facebook and Twitter.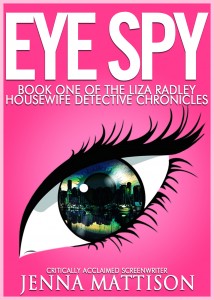 Website: http://jennamattison.net/
Available at Amazon
Book Review by ROz:
Jenna Mattison writes with a quirky, funny style that kept me engaged through the entire story. You get to see into the life of a woman in denial. After 20 years of marriage, after giving up her life, her mother's expectations, and pretty much her identity, her friends pull her aside and tell her they think her husband is cheating on her. Liza's reaction.
What? No way.
Well, yes way. Liza begins her new life after kicking her husband to the curb, taking up with an ex-cop with a spy shop, and delves into a mystery she is unwittingly pulled into. I enjoyed the banter and between the main character and Jack, the Bogart speaking sleuth. He picks her up, helps put her back together, and is easy on the eyes, to boot. There is the initial attraction that gives way to much more, but I did get a little put off by the ease of which this not-quite-divorcee manages to land men, left and right. Don't get me wrong, I'm sure a healthy dose of confidence is liberating, but I think the story gets tied up with her emotions, rather than actually having a mystery. There is one, but it kind of peters out and literally climaxes on a single page, much like a horrible blind date. To be fair, it is very well written, very clever in its humor, but the mystery gets left out of the fun.
I'd recommend the book for a quick, fun read. As far as being a 'mystery' – it doesn't really have enough substance to call it that, but I did enjoy it. I give it 4 out of 5 stars.
BLURB:

When Liza Radley realizes it's cheatin' season and no self-respecting detective's gonna spy on her husband for the $800 and change she has hidden in a plastic soap dish, she does what any normal transplanted Georgia Peach would do–she becomes a private eye. While downing her fourth maple-glazed curbside, Liza discovers "Eye Spy", a shop for the self-motivated sleuth in the heart of Boston. Inspiration strikes and she enters the world of Jack Parella, the owner/operator who talks like Humphrey Bogart but with a Southie accent and is more than willing to train Liza in the ways of amateur sleuthing, while simultaneously infuriating and titillating her. Though Liza starts the journey intending to rebuild her crumbling suburban life, she finds herself thrust into a fiery mystery as head of "Crimes of the Heart Detective Agency" with Parella by her side. Thus our dynamic duo is primed for their next adventure.
~~~~~~~~~~~~~
Excerpt:
All men cheat. At least that's what I'd always heard but I never believed a word of it.
Until today.
I'm Liza Radley, I live in a two story gunmetal grey house near the end of a cul-de-sac. Bernie and I couldn't afford actual cul-de-sac status six years ago when he started his practice here in Andover. Since then we've built our lives together brick by brick but now I find myself rifling thru his underwear drawer on a Thursday morning wondering if some young wolfette is trying to blow our house down.
Or blow my Bernie for that matter.
I mean, it's not like I actually suspect him of the big A, but over breakfast my three best friends staged the suburban version of an intervention and now that the dirty little thought is lurking I can't resist committing cardinal sin #1 from the Bad Wife Handbook. Snooping. Plus I want to prove the girls wrong and show them that my Berns and I are still in happily wedded bliss. Okay maybe not bliss…but I don't know if bliss is even possible after 10 years of marriage so let's just say we're content in a frozen-lasagna-sex-once-a-month-with-the-lights-off sort of way.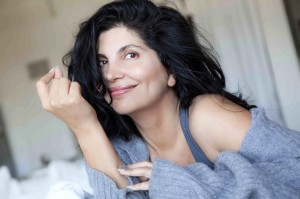 Jenna Mattison
AUTHOR Bio and Links:
Mattison started her career in Chicago appearing on television and radio.  She founded founded Cheshire Smile Productions, bringing to life and penning her first feature film FISH WITHOUT A BICYCLE, a festival winning coming of age comedy which was directed by Brian Austin Green.   "Fish" is now available on Netflix. Mattison also wrote Cheshire's second release THE THIRD WISH now available at Blockbuster and distributed by the Hallmark Channel.
Lionsgate's FOR THE LOVE OF MONEY, based on a true story of Jewish gangsters set in the 1970's starring James Caan, Paul Sorvino, Edward Furlong and Jeffrey Tambor was also produced and written by Mattison.   Most recently Jenna has written a TV movie called COMMITTED, which wrapped production this spring to premiere on television this fall. Her novel The Tree Of Jesse is a romantic religious thriller and will be released this spring, available worldwide. Mattison next novel is Eye Spy the first in a comedic romantic suspense series available this summer.
Jenna will be awarding one digital copy of Eye Spy to a randomly drawn commenter at every stop.
Please leave a comment for a chance to win a digital copy!!
Available at Amazon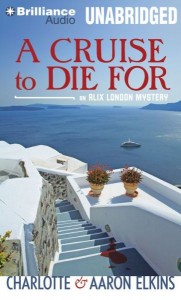 Blurb:
This should be the cushiest job Alix London's ever had.
The second Alix London mystery finds the art restorer in a world brimming with idle luxury, spectacular locations, and deadly intrigue.
Surrounded by art and wealth and the sun-drenched Greek isles, she's aboard a sumptuous mega-yacht with no responsibilities save the occasional lecture to the guests of her temporary employer, Panos Papadakis, one of the world's richest men. But there's a catch: Papadakis has long been suspected of being at the center of a multi-million dollar Ponzi scheme and Alix is actually there as an undercover operative of FBI special agent Ted Ellesworth, a member of the Bureau's Art Crime Team. They hope Alix can gather the inside information they need to finally put the cagey Papadakis away.
Alix's exposure to the enormous wealth of high-end collectors and the shadier aspects of the art trade—the avarice, naked greed, and ingenious scams—somehow brings her closer to her charming, "reformed" rogue of a father, and helps crystalize in her own mind just where she fits into the mix.
Moguls, murders, a forged Manet, and the Albanian mafia all play a role and send this pleasure cruise into brutally dangerous waters.
Set on the Aegean—Homer's fabled "wine-dark sea"—with stops at enchanted islands where ancient legends still live, A Cruise to Die For delivers a witty blend of suspense and mystery, as well as an insider's take on the contemporary art world and its eccentric characters. It's all served up with the style and sophistication with which Charlotte and Aaron Elkins have rewarded mystery readers for the past 30 years.
~
I love a good mystery. Seriously, I almost get giggly when I sit down to read one. The thrill of trying to experiencing a murder, being given the clues, and watching the main character put the pieces together for a grand ending. I love it. LOVE IT. Sadly, I did not get any of the thrill reading this book.
I always thought it was a hard and fast, cardinal rule with mysteries that the murder be within the first few chapters. You need something to grab you, yes? That jerk on your sleeve, blunt-force trauma to the back of your head. Something? Anything? A stabbing, even. No one died, in fact I wasn't even sure what the 'mystery' was in this book until literally HALF WAY THROUGH IT. I was disappointed. Yes, I learned quite a bit about the differences between Manet and Monet, Impressionists, both the 'father' of their style. I learned a little about the art theft world and 'fractional investments', but I didn't get a corpse until over halfway through the book. In fact, I had to skim past it.
The book was well written, and for that I was thankful – even for an 'uncorrected proof' copy. Sadly, I didn't really care for the main character Alix London, daughter of notorious art-forger, but talented in her own right. She has the uncanny ability to spot a fake. No real reason why, she just can.
Uh, ok.
I wasn't impressed with her sort of sidekick Ted, the undercover FBI agent and their awkward romance. I'm not a huge fan of partners jumping into bed – the Moonlighting Effect is a frigid beast. Their bantering was, at best, average. Personally I skimmed 3/4s into the end and surprised to find that 2 people died in the LATTER half of the book. One was killed earlier, but it was never said outright till after that halfway point. Sadly, I'd give this book 3 out of 5 stars for being a complete story, just not a very good one.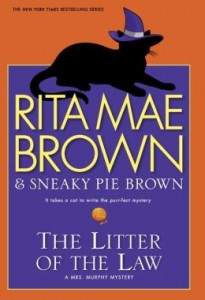 Blurb:
Description
Rita Mae Brown collaborates with feline co-author Sneaky Pie Brown in a new mystery starring Mary Minor "Harry" Haristeen, the curious cat detectives Mrs. Murphy and Pewter, and Tee Tucker, the valiant crime-solving corgi. Halloween arrives early this year to rural central Virginia, when a twisted killer will stop at nothing to protect a multimillion-dollar scheme.
THE LITTER OF THE LAW
 
Autumn has descended and crops are being harvested all over Crozet, Virginia, ideal conditions for a scenic drive for Harry and husband Fair. Bucolic views are all well and good, but Harry's nose for trouble leads her straight to a cornfield's macabre scarecrow—an all too real murder victim that frightens all but the noisy crows.
This accountant's gruesome death is only the first of many disturbing events in this normally pastoral corner of the world. While Harry tends her beloved grapes and sunflowers, a killer edges closer—as does Harry's protective menagerie of animals.
Halloween's approach brings with it bona fide terror and a beloved local tradition that threatens to become fatal. Rooting out the guilty in the treacherous center of a lucrative conspiracy requires Harry's farmer's wisdom—along with the quick wits and extraordinary senses of Sneaky Pie, Pewter, and Tucker. A vicious murderer may know the lay of the land far better than Harry does, but that's about to change. It's up to her vigilant four-footed companions to make sure that the unearthing of this plot is not Harry's last act.
~
I've seen books by Rita Mae Brown, but never actually read any of her books. Rather, I knew she wrote in the animal genre, much like Lilian Jackson Braun, so I pretty much knew what to expect.
It's a darling animal loving mystery with inquisitive and intelligent pets and their owners, and in this case, Harry and her husband come across a corpse dressed up as a scarecrow, and so begins the Halloween festivities. The animals are intriguing, but I did have to skim over a lot of the chatter regarding what ended up being the main part of the mystery. It was like reading the minutes of a church meeting, which is not to say is boring – I think we all know the type of gossip one might experience in that setting, but it did get a little boring. Skipping to the ending, I wasn't really surprised with the reasons for the murders (there are at least 3 ghastly ones). Women, money, revenge, or just plain crazy – it rarely strays from those options.
Rita Mae Brown is a solid author, and she does write an interesting tale. I think it's adorable that the animals have a place in the story, as well.