Take the Monkeys and Run (Barbara Marr murder mystery #1)
Karen Cantwell Twitter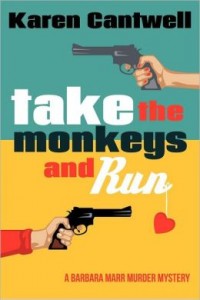 Book 1 in the bestselling Barbara Marr Murder Mystery Series
Film lover Barbara Marr is a typical suburban mom living the typical suburban life in her sleepy little town of Rustic Woods, Virginia. Typical, that is until she sets out to find the missing link between a bizarre monkey sighting in her yard and the bone chilling middle-of-the-night fright fest at the strangely vacant house next door. When Barb talks her two friends into some seemingly innocent Charlie's Angels-like sleuthing, they stumble upon way more than they bargained for and uncover a piece of neighborhood history that certain people would kill to keep on the cutting room floor.
~~
I'm always hesitant to post a negative review. I don't want to come across as crass or rude, but there are times when I just can't finish a book.  Sadly, I did not enjoy this book. Barbara Marr is very funny, but the first 1/4 of the book is a lot of unnecessary exposition and her quirky point of view that, personally, I think really detracted from the story. The main character is funny, but the additional characters, and her estranged husband/failing marriage, just made me want to skim, bypassing necessary kernels of information for the mystery itself. I'm all for insightful character POVs, but when she started discussing the tooth fairy, and reacting to her recently bailed husband, I just got annoyed. Yes, I get it, she's a housewife turned sleuth, but I could not care less about the disillusioned life she had, if it really had no bearing on the mystery itself. If it did, I had sadly lost interest in that point and skimmed over why it was relevant.
Skimming to the ending, I wasn't rewarded with anything worth reading, since I couldn't even hold on long enough to get past the first dead body. 2 out of 5 stars for being uninteresting.
~~