Murder on Cue by Jane Detinger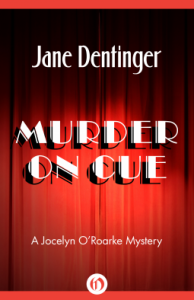 Struggling actress Jocelyn "Josh" O'Roarke just got a real offer. Well, something resembling a real offer. Her old friend Austin Frost has written a play for Broadway and cast the glamorous Harriet Weldon as the lead. Not wishing to leave his old friend Josh behind, he has invited her to be Harriet's understudy. The role of understudy is a difficult one—and it becomes even more so when Harriet turns up dead and the police name Josh their prime suspect.
With the NYPD breathing down her neck, Josh must find the people responsible while ensuring that the show will go on.
Murder on Cue is the first book of the Jocelyn O'Roarke mystery series, which also includes First Hit of the Season and Death Mask.
~
A 1992 publication by Jane Detinger which will hopefully be released into ebook as well as reprint, is resurrected as a very well written and obnoxiously snooty acting troupe involved in a murder most foul.  I have always wanted to say that – 'murder most foul!' but really, what else could murder be? Foul, cold…beachy?
The first quarter of the book introduces your cast of characters, including: Jocelyn O'Roarke, Josh for short, our heroine and prime suspect. As the much more talented understudy of the victim Harriet Weldon, you are treated to an unfamiliar world, at least to me, of theater actors and the cut-throat lives of off-Broadway productions. Josh's friend Austin writes an incredible screenplay and Josh, along with her fellow actors, director, and screenplay writer get thrust into a murder mystery.  Enter Detective Sergeant Phillip Gerrard, the Mickey Spillane police officer, with his dark black hair and Icelandic stare, is quite possibly Josh's only ally in searching for murderer.
Admittedly the rather haughty and highfalutin theater attitude slowed the first 1/4 of the book, almost making me want to put it down, but I'm glad I stayed with it, especially when the bodies started hitting the floor. This is definitely a more refined and intelligent author's voice that really influenced the way I thought and wrote while reading this book. I felt like a straight up snob and wrote that way, too. I loved it. Takes a little getting used to, what with the plethora of pop culture tripe that has inundated literature today (see…I'm all snotty!), but it is very refreshing and reminded me constantly of Hecule Poirot.
It is a little frustrating to see Josh employ her best Jessica Fletcher and refuse to tell the enigmatic Gerrard very important clues, but 'Murder on Cue' does end with a believable conclusion. The burgeoning romance between Gerrard and Josh is just enough to keep you giggling with interest, but the romance is never over done, and the end result of their association is quite lovely, making me want to read more about them in the next installment, should the series ever make it to ebook.
I thoroughly enjoyed reading Ms Detinger's mystery and give it a solid 4.5 out of 5 stars. I anxiously await her catalog to be released digitally!
~
Come find me on Facebook and Twitter