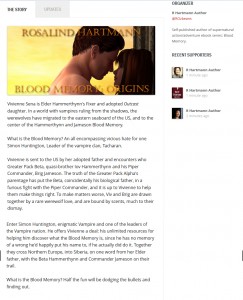 CLICK ME!
Trying to get the word out for support. Check out my new book, an Omnibus of Book 1 and the story it should have been.
Vivienne Sena is Elder Hammerthynn's Fixer and adopted Outcast daughter. In a world with vampires ruling from the shadows, the werewolves have migrated to the eastern seaboard of the US, and to the center of the Hammerthynn and Jameson Blood Memory.
What is the Blood Memory? An all encompassing vicious hate for one Simon Huntington, Leader of the vampire clan, Tacharan.
Vivienne is sent to the US by her adopted father and encounters who Greater Pack Beta, quasi-brother Iov Hammerthynn and his Piper Commander, Brig Jameson. The truth of the Greater Pack Alpha's parentage has put the Beta, coincidentally his biological father, in a furious fight with the Piper Commander, and it is up to Vivienne to help them make things right. To make matters worse, Viv and Brig are drawn together by a rare werewolf love, and are bound by scents, much to their dismay.
Enter Simon Huntington, enigmatic Vampire and one of the leaders of the Vampire nation. He offers Vivienne a deal: his unlimited resources for helping him discover what the Blood Memory is, since he has no memory of a wrong he'd happily put his name to, if he actually did do it. Together they cross Northern Europe, into Siberia, on one word from her Elder father, with the Beta Hammerthynn and Commander Jameson on their trail.
What is the Blood Memory? Half the fun will be dodging the bullets and finding out.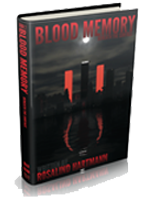 ALSO AVAILABLE!! Blood Memory: Beneath the Surface (book 2)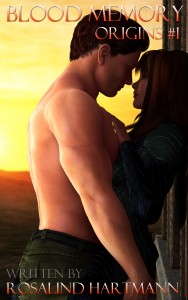 Now available on Amazon and Smashwords.com
Use the code RAE50 at Smashword's checkout for 50% off during their site-wide promotion!
(Offer good through March 07, 2015)
More action, more romance, more werewolves and vampires. What can go wrong, right? Dive into the new edition of Book 1, the book that 'should have been'. Learn how Brig and Viv meet, about the dispute tearing Brig and Hammer apart, and when Simon first meets Vivienne. Hope you enjoy it.
Come Find Me: