50 Shades of #WTF, did I just read this #ebook? Reviews by ROz
Fifty Shades of Grey Book 1 by E.L. James
I'm not linking this book. I absolutely refuse to, but I will review it. Oh yeah, I'm going to review the shit out of it, and it'll be keeping with the roughness with which this book tore my brain asunder…and not the good way.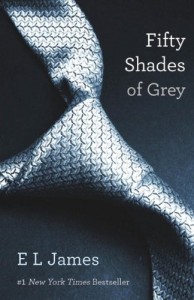 Ever hear of Twilight by Stephanie Meyer?  That book I will link, because despite the atrocity that are the five movies that were based on the four book series, if you've read the actual books, you'll know that the movies did not do it justice.  And that's not coming from a pre-cougar (not 40 yet, thank you), but from someone who decided to read the books before trashing them, like I really wanted to do. Actually, my 11 year old at the time wanted to read them, so I read ahead of her and really enjoyed the series.  Eclipse by far is the best, but that's another post.
If you've read Twilight, you've read '50 Shades…'. Sadly, E.L. James pretty much stole the premise and plot when she published these…books (and I use that term loosely). Originally '50 Shades…' was a Twilight fan-fic.  Fan fiction written with Stephanie Meyer's characters. Yeah, not an original idea in the entire series. Down to the clumsy falling in through the door.  Anastasia is Bella.  Grey is a tortured, tycoon, 20-something Edward. Except in this version, Grey meets and obsesses over Ana and draws her into his world of BDSM.
BDSM is a variety of erotic practices involving dominance and submission, role-playing, restraint, and other interpersonal dynamics. (courtesy of wikipedia)
I have zero problems with that lifestyle, let me put that out there first since I know a lot of women think it's disgusting (so disgusting they read the book anyway), but I am down reading some well written BDSM and I love me some smut – hell, I've written it, so my problem doesn't surround their flavor of sex. It's the pov – young Anastasia, that ruins this entire book, aside from the fact that it's Twilight in leather.
By pure coincidence Ana meets and interviews Mr. Grey. He is immediately enthralled by her demure, submissive personality. Ana is beautiful but doesn't know it. Her best guy friend (Jacob, basically) is in love with her. The first book is basically a manual on how to enter into a agreeable BDSM relationship…do they call it that?  Partnership? You even get the contract, written with some ridiculously specific details. Eating, taking care of herself, how to address him – I'm too controlling for that…maybe I'd make a good Dom…huh. Food for thought.
Book 1 is Ana's deflowering and Grey realizing he 'needs' her, not just 'wants' her, but after a particularly shocking (not literally) sexual moment, she decides he is truly 50 shades of fucked up – his words. Clever, isn't it? Hear my sarcasm there? Anyway – Ana is heart broken she can't be enough for what he needs – outside the sexual aspect of their coupling, and that's book 1.  I started book 2, and then I put it down after 2 chapters and they get back together again. Does it get better? That's what I hear, I did not finish the trilogy, nor will I ever be that bored or bereft of things to read to ever do so. I have some year old US magazines I'd rather read, to be very honest.
Why am I reviewing (tearing to shreds, mocking, hating on) this book? Because E.L. James gave me the courage to self-publish my own book.  I mean, if she can, why the hell can't I? In any case – movie is in the works, James makes a million a week, and there are a lot of mommy book-clubs I'm going to be banned from.  The plus side? I went to a Rom-Convention last summer and met a few BDSM authors. I honestly wanted to know what they thought of her work.
None had read her books.
They were thankful that it opened up their lifestyle to people who may have been hesitant to dabble with a little pain and leather. Props to James for doing that – I'm open to anything. Except Brussels sprouts. And reading the rest of this series. To be very honest, Ana's point of view is tiresome and childish, not like an innocent young women discovering her body with a man she could very well love. Her thoughts are ridiculous, and no, I'm not a fan of the 'Inner Goddess', despite IG giving most of the funnier dialogue.  '50 Shades…' rode on the coat tails of Stephanie Meyer's infinitely better written vampire/werewolf series. '50' is written with pop culture references and tone that will not stand the test of time, and in 5 years, will probably still be popular, sadly enough.
E.L. James is not a storyteller and definitely not worth the popularity and interest Book 1, or the rest of the series, garners.
(drops mic)