Blood Memory: Origins
http://bit.ly/BloodMemoryOrigins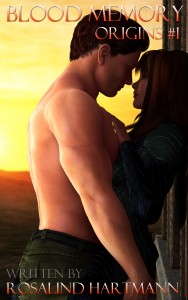 Werewolf romance in a world silently ruled by vampires. A Blood Memory brings the leader of the most notorious vampire clan and the adopted daughter of a werewolf Elder together to discover its secret. Discover the world of the Greater Pack and Clan Tacharan as Vivienne and Simon race across the globe to find the Blood Memory's secrets while dodging bullets, avoiding explosions, and braving Siberia's cold tundra.
Available at amazon for $2.99!
Come find me at:
Twitter – @RHartmannwrites
Facebook Book Series – https://www.facebook.com/BloodMemorySeries
Facebook Author page – Rosalind Hartmann?