Blood Memory: Vignettes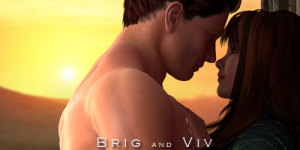 If you've read Blood Memory: Book 1 and Book 2, you know who Brig and Vivienne are. Bound together by their scents, they are soul mates from two very different worlds. Both werewolves, Brig is the Commander of the Alpha Pipers, direct descendant of the Jameson family, and enigmatic best friend of the new Alpha Hammerthynn. Vivienne Sena is the adopted daughter of Vigo Hammerthynn and was raised as an Outcast – the nomadic, cast out pack of wolves who followed the false Alpha generations ago. They are secret lovers when you meet them in Book 1 – but ever wonder just how they met?
Coming soon – a short love story. The who, why, how, and when of Brig and Vivienne.