The City of Cries by Catherine Asaro – Reviews by ROz
City of Cries by Catherine Asaro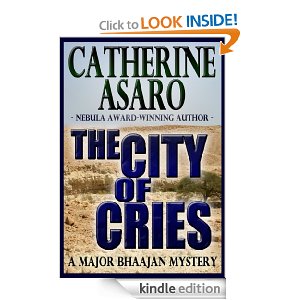 I'm hesitant to read books with female main characters lately. I think the whole 'strong but vulnerable' formula has really gotten to me, but with that being said, Catherine Asaro knows how to write a no-bullshit detective story set in the future, and thank god for that.  Recommended to me by scifi nut father, it's a quick little novella that is able to put in a surprising amount of back story to an otherwise short tale.
It starts with aliens. But then good stories always do, don't they? Primitive humans from Earth are dropped on a planet and essentially abandoned by their alien captors – to die, be part of an incomplete mission, or to thrive, and thrive they did. A civilization with roots dating back to Earth's Pharaohs, these abandoned earthlings form the Ruby Dynasty and a female dominated civilization that manages to glean information off the only bit of alien artifact they are left with, a spaceship with libraries full of technology that they can and do adapt. It's a wonderfully conceptual world of powerful families, legacies, where females are held in higher regard intellectually and a man's only real claim is his appearance. But with all this back story, here in lies a detective story driven by a strong female retired military detective named Major Bhaajan.
For as short as this story is, Asaro still manages to weave a technically advanced detective story about a missing prince, the flawed monarchy he belongs to, in a world the Major had left behind – and for good reason. It is interesting to read about a world so polar opposite to our own Earth – where noble males are hidden from view and married off for political and financial gain. Males of worth who are to be prized and any aspirations to being more than they are is looked down upon. It's not an uncommon theme in science fiction fantasy, but the idea still intrigues me as a woman. What I do appreciate about how the main character Major Bhaajan is written is how you're treated to her thought process through a logical stand point, not an overly emotional one, until she reunites with an old love from her old stomping grounds, Jak.
Jak is written as the smoldering underworld casino kingpin, the old lover of Major Bhaajan, left behind when she realized that once you leave home, you really can never go back. You get just the tiniest bit of romance that is believable, but doesn't detract from the very well written plot. The Major has a job.  Period.  But she's not heartless. It's enough vulnerability that doesn't ruin a strong character.  A flaw she fondly holds dear, but doesn't cloud her judgement.
Bhaajan is hired by one of the most powerful families in their universe to find their missing Prince, and the reward if she succeeds isn't just financial – her life could very well depend on her ability to discreetly return the prince to his gilded cage. There are moral questions, of course, but unusual points of view that make the story interesting as well as enthralling.  Quick read, but well worth it.  Enough so that I wholeheartedly agree with my father in wanting to read more of the Skolian Empire series by Catherine Asaro.
Catherine Asaro is a Nebula Award winner for her novel The Quantum Rose, part of her popular Skolian Empire series, and the novella "The Spacetime Pool." Her novels have three times been named the best science fiction novel of the year by Romantic Times Book Club. She has won numerous other awards, including the Analog Readers Poll award, the Homer, and the Sapphire award. She has an M.A. in physics, and a Ph.D. in chemical physics, both from Harvard, and has done research at the University of Toronto, The Max Planck Institute, and the Harvard-Smithsonian Center for Astrophysics. A former ballet and jazz dancer, she founded the Mainly Jazz Dance program at Harvard and danced on both the west and east coasts. Her previous books for Baen were Sunrise Alley, its sequel, Alpha, and two novels in her Skolian Empire series, The Ruby Dice and Diamond Star. For Diamond Star, she also cut a CD of the same name with the rock band Point Valid, which offers a soundtrack to the book. She continues to compose and perform, and appears in concert at science fiction cons. Catherine has written fourteen novels in the popular Skolian Saga—Carnelians being the latest—several fantasies, including The Charmed Sphere, and the near-future thrillers The Veiled Web and The Phoenix Code.