Craving More (Tiger Nip) by @Brandy_W (Brandy Walker) – Book Review by ROz
Find Brandy Walker – Twitter, Goodreads, Blog, and Facebook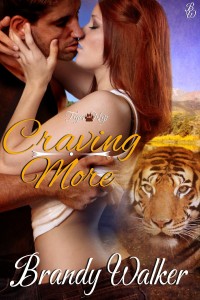 Brandy first let me read this book about a month ago. I was excited, to say the least, that she actually let me. I had been bugging her to let me read something she had wrote – anything – but I never got anything but bits and pieces over the years. It's ok, I can dig it. Writing is a piece of you, and despite how vain I personally am (I'm not, really…I'm very nice), it's still scary as hell to share that piece with someone else who might read it and think, "…ew." I'm thrilled Brandy finally decided to take the leap and jump into the Indie-publishing world. With that being said, anyone can publish, but it doesn't mean anyone should. I, for one, and damn happy Brandy finally did.
Craving More begins with Corrine Hart. Simple yet elegant, average yet beautiful – she is your common variety female. No perfect woman (because really, that gets old) with a slim waist and ruby red lips. She is not grandiose in her completely unaware beauty, but a fabulous cook with integrity, respect, and absolutely no compunctions about wanting Jett Montgomery-Murphy, or Murph. Hesitant, yes, and not bold enough to pursue the handsome 'Hunky Cupcake Guy'.
Initially the story starts off without missing a beat.  Girl is single and alone. Girl wants boy, but figures he's too beautiful for her. Turns out, boy most certainly wants girl, and not just for her cupcakes. The catch? Brandy creates a wondrous world of feline fancy – they are cats, and not the Persian kitties, but large tigers, panthers…the kind that are 900+ lbs and could eat your head in a single bite. The first mention that these are a different kind of shape-shifting humans almost confused me at first – Brandy weaves the little side note as almost an afterthought, but you soon escape into the beauty and rituals of this created universe, and I was very much impressed.
Corrine's story starts with her bakery – something she built herself and she's very much proud of establishing herself. As I said, Corrine and Murph hit it off and tangle, much to her surprise. The book is pretty much Corrine dealing with how she feels about Murph, who he really is, and the baggage he appears to be carrying. The POVs are from both Corrine and Murph, and you get to see a very real human side to instant attraction vs proper courting, or rather, if she should even bother. Without spoiling it, I enjoyed the chase as well as the romantic scenes, which are not done over the top. I do wish it was a little longer (it is novella sized), but I am looking forward to learning more about the supporting characters like her brother, her best friend and roommate, as well as the intricacies of the feline hierarchy that they live by.
Wholeheartedly recommend Craving More by Brandy Walker for the creative universe and because she's my oldest friend. Biased? A little, but it's still a very good read, definitely worth the money.
Find Brandy Walker – Twitter, Goodreads, Blog, and Facebook