A Cruise to Die For (Alix London Mystery) by Aaron Elkins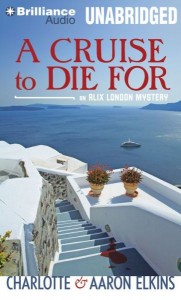 Blurb:
This should be the cushiest job Alix London's ever had.
The second Alix London mystery finds the art restorer in a world brimming with idle luxury, spectacular locations, and deadly intrigue.
Surrounded by art and wealth and the sun-drenched Greek isles, she's aboard a sumptuous mega-yacht with no responsibilities save the occasional lecture to the guests of her temporary employer, Panos Papadakis, one of the world's richest men. But there's a catch: Papadakis has long been suspected of being at the center of a multi-million dollar Ponzi scheme and Alix is actually there as an undercover operative of FBI special agent Ted Ellesworth, a member of the Bureau's Art Crime Team. They hope Alix can gather the inside information they need to finally put the cagey Papadakis away.
Alix's exposure to the enormous wealth of high-end collectors and the shadier aspects of the art trade—the avarice, naked greed, and ingenious scams—somehow brings her closer to her charming, "reformed" rogue of a father, and helps crystalize in her own mind just where she fits into the mix.
Moguls, murders, a forged Manet, and the Albanian mafia all play a role and send this pleasure cruise into brutally dangerous waters.
Set on the Aegean—Homer's fabled "wine-dark sea"—with stops at enchanted islands where ancient legends still live, A Cruise to Die For delivers a witty blend of suspense and mystery, as well as an insider's take on the contemporary art world and its eccentric characters. It's all served up with the style and sophistication with which Charlotte and Aaron Elkins have rewarded mystery readers for the past 30 years.
~
I love a good mystery. Seriously, I almost get giggly when I sit down to read one. The thrill of trying to experiencing a murder, being given the clues, and watching the main character put the pieces together for a grand ending. I love it. LOVE IT. Sadly, I did not get any of the thrill reading this book.
I always thought it was a hard and fast, cardinal rule with mysteries that the murder be within the first few chapters. You need something to grab you, yes? That jerk on your sleeve, blunt-force trauma to the back of your head. Something? Anything? A stabbing, even. No one died, in fact I wasn't even sure what the 'mystery' was in this book until literally HALF WAY THROUGH IT. I was disappointed. Yes, I learned quite a bit about the differences between Manet and Monet, Impressionists, both the 'father' of their style. I learned a little about the art theft world and 'fractional investments', but I didn't get a corpse until over halfway through the book. In fact, I had to skim past it.
The book was well written, and for that I was thankful – even for an 'uncorrected proof' copy. Sadly, I didn't really care for the main character Alix London, daughter of notorious art-forger, but talented in her own right. She has the uncanny ability to spot a fake. No real reason why, she just can.
Uh, ok.
I wasn't impressed with her sort of sidekick Ted, the undercover FBI agent and their awkward romance. I'm not a huge fan of partners jumping into bed – the Moonlighting Effect is a frigid beast. Their bantering was, at best, average. Personally I skimmed 3/4s into the end and surprised to find that 2 people died in the LATTER half of the book. One was killed earlier, but it was never said outright till after that halfway point. Sadly, I'd give this book 3 out of 5 stars for being a complete story, just not a very good one.