Flashback by @mariahammarblad #bewitchingbooktours
Flashback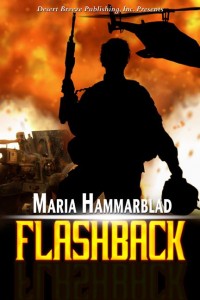 Maria Hammarblad
Genre: contemporary romance/suspense/military
Desert Breeze Publishing
Release Date: June 21, 2013
Book Description:
Steve Petersen is a Very Troubled Man. Sole survivor of a Taliban POW camp, he often thinks only parts of him returned; his sanity appears to have been left behind. He seeks solace in alcohol and drugs, but nothing helps block the images from his mind for more than minutes at a time, and he is trapped in horrifying flashbacks.
He is more than surprised when he wakes up in a bright and merry bedroom that turns out to belong to the widow Anna, a woman he has rudimentary memories of meeting. Knowing he should leave isn't the same as doing it, and before he knows what's happening, he finds himself pulled into a world with real life problems, such as folding laundry, and what's for dinner.
Whiskey is no longer his first priority, and not being alone in his waking nightmare is a relief. That is, until Anna disappears. Steve finds himself forced to return to Afghanistan, a place where he'll have to face both external enemies and himself.
Excerpt:
  When they came home, Steve sank down in the sofa without even taking off his jacket. Life outside could sure be exhausting. Anna went into the kitchen, and he rested his head back and closed his eyes. Listening to her hum a song, just a little out of tune as she loaded the coffee maker soothed his nerves.

A hard rattling sound made him open his eyes again. Gunshots, and they were close. Anna still sang, and she would be an easy target.

He ran through the apartment, making sure to stay away from the windows. Peeking around the corner, his beautiful fiancée was oblivious to the danger.

Women.

How did they survive?

He sprung out from his hiding place behind the wall, shoved her down on the floor, and threw himself over her. After all she did for him, protecting her with his own body was the least he could do.

Anna wheezed, clearly trying to draw a breath.

"Sssh, they're coming."

She lay on her back, and the question in her eyes was clear. Have you lost your mind? Of course he had, a long time ago. She should know. When she opened her mouth, he covered it with his hand so she couldn't draw attention to them.

"Don't you hear them? The shots?"

She shook her head and closed her fingers around his wrist, attempting to pull his hand away.

"I think we're safe, but be very quiet."

Anna nodded, and as soon as he removed the hand, she whispered, "Please get off me. I can't breathe."

He obeyed, she endeavored to sit up, and he pulled her back down.

"Don't make yourself a target."

Why did she look so exhausted?

"Sweetheart, there's nothing there."

"But…" He had heard them.

"That noise? Remember the crazy people upstairs? I don't know what they're doing, but it's definitely them."
About the Author: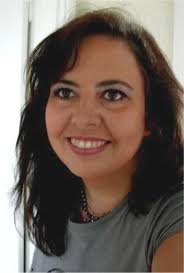 Born in Sweden in the early 1970's, Maria showed a large interest for books at an early age. Even before she was able to read or write, she made her mom staple papers together into booklets she filled with drawings of suns and planets. She proudly declared them, "The Sun Book." They were all about the sun. She also claimed, to her mother's horror, that her being on Earth was a big mistake and that her alien family would come and bring her home at any moment. This never happened, but both the interest in space and the passion for bookmaking stayed with her.
As an adult Maria's creativity got an outlet through playing bass in a number of rock bands, and through writing technical manuals and making web pages for various companies and organizations. She did write drafts for a few novels, but the storytelling muse was mostly satisfied through role playing online on Myspace. It was here, while writing stories together with people from around the globe, she stumbled onto Mike. They started talking out of character, and she moved over to Florida to him late 2008. Today the two are married and live in the Tampa Bay area with three rescue dogs.
Besides writing and playing bass, Maria enjoys driving off-road, archery, and Tameshigiri.
Upcoming releases
Operation Earth, to be released by Desert Breeze Publishing August 2013
Borealis XII, to be released by Desert Breeze Publishing November 2013
Fun Facts
Favorite color:             Blue
Favorite food:             Chicken with cashew nuts
Doesn't eat:                 Mammals
Favorite TV Show:     Star Trek TNG and Leverage
Favorite animal:          Border Collie
Quotes:                        "Full Speed Ahead" and "Caffeine is good for you"
Website: http://www.hammarblad.com
Blog: http://www.scifiromance.info
Facebook: https://www.facebook.com/mariahammarblad
Twitter: http://www.twitter.com/mariahammarblad