Goodreads 'Blood Memory: Book 1' signed printed copy giveaway winners!
Thanks to

Goodreads

and their giveaway program, I ran a month long sign up to receive a signed copy of my first book 'Blood Memory: Book 1'.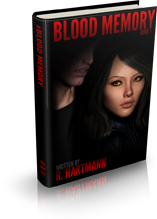 The four winners are:
Jennifer Lin of Rohnert Park, CA
Mireille Gaubiac-Angeli of Laval, Quebec Canada
Gerard Boonstra of Jacksonville, Florida
Ian Murphy of Austin Minnesota
A total of 686 people entered the drawing, so thank you to all of you who participated!
If you have not already received a free ebook copy of 'Blood Memory: Book 1', please go

HERE at Smashwords.com