Another Guest Author Feature – The Published and Super Awesome Melissa Schroeder!!!
 Today I'm featuring 'A Little Harmless…' series author

Melissa Schroeder

!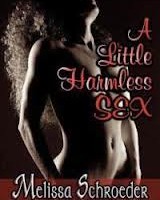 I first read 'A little Harmless Sex" last year when my San Diegan BFF Brandy passed the book along to me.  Let me just say, I don't often delve into the romance section, but Melissa knows how to write a page-turner!  I'd like to thank her for making an appearance on my site and I'm looking forward to catching up with the Harmless characters and hope you do, too!  Now, a little diddy from Melissa!
~
Hi, everyone! First, I want to thank Roz for hosting me on her blog today. If you don't know me, my name is Melissa Schroeder and I write anything from historical to futuristic and sensual to erotic. I am here today to talk about my newest release, A Little Harmless Fantasy.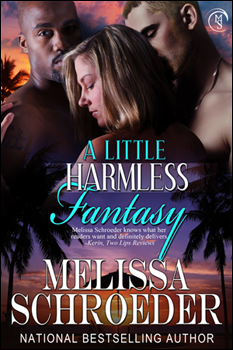 I have written other ménages before, but this s the first permanent ménage for the series.  I knew before I wrote it, it was going to be a challenge.  Harmless fans have certain expectations and I really don't want to let them down. I have written ménages before and I have my own beliefs in how to write them-as I am sure every writer does.  I always want to make sure that the people involved in the ménage, whether it is an MMF or an MFM. With this book, I needed to make sure BDSM was part of the mix—it isn't always. Usually there is one thing—an incident or person—that brings them together. In this story it was Rory.
So, I knew Zeke and Maura first, knew they were in love. You can actually read their first hook up for free in Prelude to a Fantasy.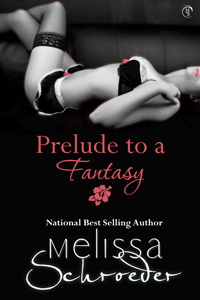 They thought their relationship wouldn't work because Maura needed a Dom and Zeke doesn't go for that, but his long time lover was. When Rory discovers that is their problem, he suggests some fun in Hawaii for a week.
That one little change throws all three members of the ménage into a new emotional dimension. I want to make sure that every person involved is believable. Each of them, Rory, Zeke and Maura, have their own wants, needs, and conflicts. I love playing them off each other, throwing them together and watching them figure out to get their happily ever after.
I hope you enjoy their story!
~~~~~~~~~~~~~~~
Make sure you check out the Harmless Bundles—A Little Harmless Bundle, Vol 1 and A Little Harmless Military Romance—now on sale through Feb 14th for .99 a piece!!!!  That is five books for less than two bucks.
Catch up with Mel all over the web:
Melissa Schroeder is a national bestselling author of over 50 books. She is best known for her Harmless series, a BDSM series mainly set in Hawaii.  She is a military wife and brat, now counting down the days until she can say she is a retired dependent. She loves to cook, read, and avoid the killer bugs of the south. (they are real…they will eat your children). She loves to hear from readers!