Key Death (A Nicholas Holt Thriller) by Jude Hardin – Review by ROz
Jude Hardin – twitter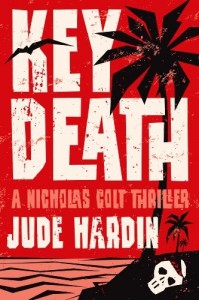 It starts off with Zombies.  How could this book go wrong?
Nicholas Holt is…was a private detective and a once legendary guitar rock star.  He is neither now, thanks to heroin.  Happily married with a beautiful adopted college aged daughter, Nicholas hangs around his house, watches TV as he eats pork rinds.  I'm not a huge fan of pork rinds, myself, but I'm sure it's a living.
While trying to meet the also legendary John Foggerty, Nicholas is sidetracked by his old buddie's girlfriend's request:  find my biological father before I die.
Sounds easy, so he does.  Her father is dead.  With a capital D.  Murdered execution style in his condo.  His buddie's girlfriend has another request:  find my father's killer.
Oh, well then.  So Nicholas kisses his beautiful wife goodbye and heads out to Key West, currently dubbed 'Key Death' because of 'The Zombie' serial killer who kills his victims by asphyxiation, cuts their skull open, and scoops out their brains.  There have been 9 murders, and wouldn't you know it, Nicholas gets caught up in the most recent.
With 10k in the bank from his dying client, Nicholas gets into a lot of shit over the next 7 days.  Discovering the missing, but murdered father, the landlord of said crime scene, a boyfriend, an ex-boyfriend, an ex-wife (not his), porn, drugs, really bad musicians, and some seriously bad luck kept me fairly interested.  It starts off a little slow, but the surprising turn of events and bad situations Nicholas finds himself in makes me question whether he's really getting paid enough to find a killer that the police can't find.  Not only is the bio-dad's murder unsolved, but apparently it has something to do with The Zombie.
You get treated to excerpts of a movie Nicholas saw as a 12 year old at the beginning of pivotal chapters.  He has an intense fear of zombies or Kinemortophobia – you'd think it would be more of a fetish, but he really does have nightmares about zombies.  It has a bit of a twist ending that isn't really surprising at all, but all in all it was written very well – I enjoyed, if not severely questioned, Nicholas' point-of-view and dedication to his job.  The job he's suspended from, by the way, and being there acting like a detective can literally get him thrown into jail.  Still, if you overlook those questions, Jude Hardin writes a trippy mystery.  It's engaging enough to make me sit and read through the afternoon until I finished it, but then it's not really a long book.
I rated 'Key Death' 4 out of 5 stars on goodreads, only because again – the ending wasn't that big of a twist surprise.  I still enjoyed it and might seek out the other books in the series if I can get them cheap.