All You Need Is Kill by Hiroshi Sakurazaka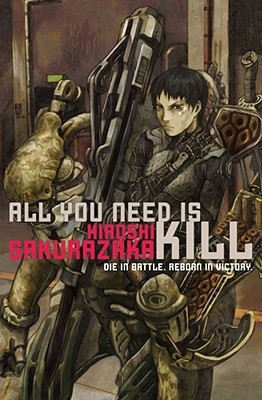 Admittedly the movie drew me to search out the book it was based on. I should have known better to think the Hollywood version was anything like its predecessor, but I was still pleased to read this book.
I won't nitpick the differences between the movie and book. However, I will say that, despite the obvious differences that you pick up immediately, the book's premise is pretty damn interesting. It's been likened to a 'scifi Groundhog Day'. One soldier spends months preparing for the day he unceremoniously dies. There is nothing glorious in his death, which ends 15 minutes after his battle starts, other than not wanting to go out with ammo left. A pitiful attempt to redeem himself, but doing so starts a repeated series of events that leads him to realize that, if he's going to die, god damn it, he's going to try and live before death comes for him.
There's no running from death, which comes in the shape of starfish evolved with nanobites from far off worlds. An alien race needs a new home and it doesn't have the time to double check if there is life on this little blue planet they've chosen. An 80 year round trip for an answer? No, we'll just take your planet with some very pissed off starfish with excrement that inevitably terraforms our planet to suit them. No offense.
The main character decides to take a stand, and in doing so, discovers he is not only in his approximately 32 hour time loop. Enters The Full Metal Bitch.
The book manages to weave a little bit of romance without gutting the story, which stays incredibly true to high action, science fiction adventure. It's a short novel with a science that takes, more than it gives, but keeps the story intact. I gave it 5 out of 5 because a good premise is easy to f8ck up, and Mr. Hiroshi Sakurazaka did not.
Come find me.