The Litter of the Law by Rita Mae Brown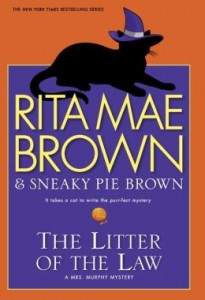 Blurb:
Description
Rita Mae Brown collaborates with feline co-author Sneaky Pie Brown in a new mystery starring Mary Minor "Harry" Haristeen, the curious cat detectives Mrs. Murphy and Pewter, and Tee Tucker, the valiant crime-solving corgi. Halloween arrives early this year to rural central Virginia, when a twisted killer will stop at nothing to protect a multimillion-dollar scheme.
THE LITTER OF THE LAW
 
Autumn has descended and crops are being harvested all over Crozet, Virginia, ideal conditions for a scenic drive for Harry and husband Fair. Bucolic views are all well and good, but Harry's nose for trouble leads her straight to a cornfield's macabre scarecrow—an all too real murder victim that frightens all but the noisy crows.
This accountant's gruesome death is only the first of many disturbing events in this normally pastoral corner of the world. While Harry tends her beloved grapes and sunflowers, a killer edges closer—as does Harry's protective menagerie of animals.
Halloween's approach brings with it bona fide terror and a beloved local tradition that threatens to become fatal. Rooting out the guilty in the treacherous center of a lucrative conspiracy requires Harry's farmer's wisdom—along with the quick wits and extraordinary senses of Sneaky Pie, Pewter, and Tucker. A vicious murderer may know the lay of the land far better than Harry does, but that's about to change. It's up to her vigilant four-footed companions to make sure that the unearthing of this plot is not Harry's last act.
~
I've seen books by Rita Mae Brown, but never actually read any of her books. Rather, I knew she wrote in the animal genre, much like Lilian Jackson Braun, so I pretty much knew what to expect.
It's a darling animal loving mystery with inquisitive and intelligent pets and their owners, and in this case, Harry and her husband come across a corpse dressed up as a scarecrow, and so begins the Halloween festivities. The animals are intriguing, but I did have to skim over a lot of the chatter regarding what ended up being the main part of the mystery. It was like reading the minutes of a church meeting, which is not to say is boring – I think we all know the type of gossip one might experience in that setting, but it did get a little boring. Skipping to the ending, I wasn't really surprised with the reasons for the murders (there are at least 3 ghastly ones). Women, money, revenge, or just plain crazy – it rarely strays from those options.
Rita Mae Brown is a solid author, and she does write an interesting tale. I think it's adorable that the animals have a place in the story, as well.