Perfect Victim (Paula Mitchell P.I.) by @JanSChristensen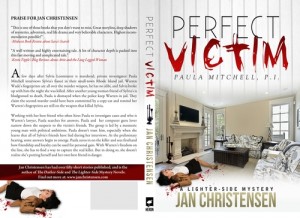 Blurb:
A few days after Sylvia Leominster is murdered, private investigator Paula Mitchell interviews Sylvia's fiancé in their small-town Rhode Island jail. Warren Wade's fingerprints are all over the murder weapon, he has no alibi, and Sylvia broke up with him the night she was killed. After another young woman friend of Sylvia's is bludgeoned to death, Paula is dismayed when the police keep Warren in jail. They claim the second murder could have been committed by a copy-cat and remind her Warren's fingerprints are still on the weapon that killed Sylvia.
Working with her best friend who often hires Paula to investigate cases and who is Warren's lawyer, Paula searches for answers. Paula and  her computer guru lover narrow down the suspects to the victim's friends. The group is led by a mesmeric young man with political ambitions. Paula doesn't trust him, especially when she learns that all of Sylvia's friends have lied during her interviews. At the preliminary hearing, some answers begin to emerge. Paula zeros in on the killer and sees firsthand how friendship and loyalty can be used for personal gain. With Warren's freedom on the line, she has to find a way to capture the real killer. But in doing so, she doesn't realize she's putting herself and her own best friend in danger.
First in a series featuring Paula as a feisty private investigator.
~~
I'm usually not a huge fan of female main characters, and I've mentioned this before, but I am the first to admit when one doesn't fall into the 'helpless waif' or 'overtly bitchy yet sexual' category, and is actually worth a damn. Jan Christensen's private detective, Paula Mitchell, with her somewhat dark past, but decidedly pure of heart despite what men tend to represent in her life, is a good example of how to write a decent and strong female heroine. It's a relief, really, to be able to sit down, read a book, and not be annoyed with the character. It's a relief and it doesn't happen too often.
A young woman is killed and her ex-boyfriend (ex as in literally just broke up with him barely an hour before) is accused of her murder. I think the title should have been 'Perfect Suspect', rather than victim – the odds and clues are stacked up against Warren Wade, the ex-fiance' of Sylvia Leominster, almost perfectly.
You first meet Paula Mitchell dealing with the stereotypical pug-faced detective as she tries to have her first sit-down with Warren. Not quite optimistic of Warren's alleged innocence, she begins to gather clues. You meet Sylvia's friends, irritatingly young and arrogant for a gaggle of 22ish year olds, and almost kind of incestuous in their steadfast claim to be such 'good friends' since grade school. There is the leader, the bitch, the jealous single-white-female bff, the bad boy, the idiot boy, and the butt-boy (so to speak). All average in their stereotypical roles, but they fulfill them, nonetheless.
Paula has to navigate the friends, the family, her boyfriend Steve, her trust issues with men, her best friend – Warren's lawyer, her own dark past and betrayals. Really, I enjoyed the book and its twists and turns. Some clues a little more obvious than others, the ending isn't really a surprise, but it is a satisfying and realistic conclusion.
I'll be honest, it's hard to get a 5 out of 5 stars from me, but I do give this one a solid 4 stars for clever writing, a solid plot, and no-lose-ends ending. I am really looking forward to Volume II and another Paula Mitchell case and highly recommend this to any mystery fan.