Pop Travel by @taratylertalks
Tara Tyler – Facebook and Twitter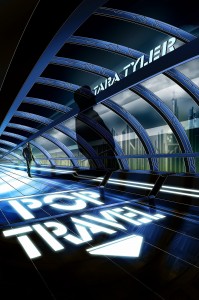 POP TRAVEL is the way to go! (at your own risk!)
In 2080, technology has gone too far for J. L. Cooper. He is happily hidden in his simple, secluded life as a private detective in a small town, far from any pop travel laser teleportation stations. Until he takes on a client who insists pop travel made his fiancé disappear.
When Cooper investigates, he finds evidence of pop travel's deadly flaw, sparking a series of murders, attempts on his life, and threats to his brother. He'd like to pass off the evidence but knows he's being watched and can't trust anyone. And who would believe him?
The only way he can save his brother is to fool his observers while looking for a way to expose the problem. He decides to go to the source and confront the Creator of pop travel. On his way, Cooper meets Southern siren, Geri Harper (an undercover FBI agent) who tags along despite his protests. When they reach the Creator, he has plans of his own and leads them on a wild detour.
~~~
When I sat down to start this book, I was immediately intrigued with the very idea of instant travel in a world of increasingly busy people. Tara Tyler starts off extremely strong, establishing the wonder of 'pop travel' as well as the fear that it might be killing random travelers.  Something as revolutionary as the automobile, was actually a death trap. The world the author creates is incredible and tickles my scifi funny bone with excitement and glee, even with the introduction of the main character, J.L. Cooper, ex lawyer and alcoholic, older brother to the enigmatic congressman/future president.
Cooper is a recovering alcoholic lawyer turned private eye (aren't they all, tho?) who fell into a tailspin of self destruction after inadvertently sending his beautiful wife to her death. A 'pop travel' virgin, Cooper instinctively does not trust the instant travel, and after sending his wife on a fatal plane crash, falls head first into a bottle of scotch. Years later, he is a rehabilitated, stronger man, thanks in part to his younger, if not better, brother. Tyler creates a flawed human being you cannot help but like. Cooper's good name, as a lawyer who tried to sue the corporation that had begun to monopolize the travel industry, puts an accountant in touch with Coop to help solve the mystery of his fiancee's death, whom you meet in the introduction of the book.  Cooper is reluctant, but as he begins to look into the accountant's case, bodies start hitting the floor, and this is where I checked out, sadly.
Tyler begins introducing a multitude of characters, all of which are, at best, annoying. Geri Harper (undercover FBI agent pursuing Cooper and what he discovers) pretty much derails what could have been an amazing science fiction mystery. I guess the author wanted to include some sort of romance aspect, but it rails against the personality that Tyler has set up for Cooper. He's a driven investigator with the life of his congressman baby brother on his hands, yet is immediately distracted by a southern drawl in capri pants. Really? Just like that? I was beyond disappointed.
Skimming through the rest of the story, you're introduced to the 'bad guys' – an ice queen villain who thinks nothing of saving her own skin, and her ridiculously over reacting accomplices. Then there's the 'Creator' of pop travel and too many characters I just did not care enough to read about.
I read the ending, with of course Geri and Cooper ending up together (no idea why she didn't do her job, and didn't care to read about it). This story had such potential to stand out with an exceptional plot and believable main character, that even with such a strong beginning, still falls short of anything worthy of more than 3/5 stars.