Sea Sick: A novel of horror and suspense by @IainRobWright
Iain Robin Wright – blog and Twitter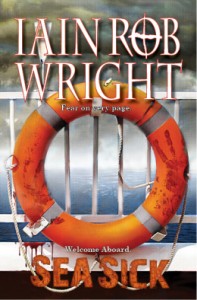 I couldn't remember why or when I had picked up this book, but I'm a sucker for a good mystery.
Jack seems depressed. All things considered, once the author delves deeper into what is at first a confusing premise, you completely understand why Jack is having a bad vacation. Boarding a luxury cruise liner, he embarks on a horrifying groundhog day misadventure that pretty much ends the same way, every day, for a long time. There is a pathogen disguised as a common cold that spreads like wildfire to the entire ship, and by day two, ends with infected passengers turning into vicious zombies, eating the rest of the ship; only for some reason, as soon as Jack dies or it strikes midnight, the day resets, and he wakes up again at 1400 after sleeping deeply for over 24 hours.
While reliving the same day's horrors, day in and day out, Jack soon discovers that he is not alone. He meets Tally, the Romanian waitress and Donovan, the American cowboy. Now, bless his heart, I immediately could tell that the author was not American, because poor Donovan is portrayed as your typical 'cowboy', and as an American, I can most definitely assure you that, although the culture is still alive and strong in the Midwest, we don't call each other 'pardner'. Other than that misstep, the entire book kept me interested, even though it was fairly easy to see the signs and guess the ending.
Wright does an excellent job weaving a wonderfully told horror story of zombies, survival, and just what a person can and would do, if put in a dire circumstance. You meet and get to know more passengers, as well as the reason why the day keeps repeating itself. Without giving anything away, Wright tells a believable premise that touches upon the fanciful, but doesn't seem too ridiculous. Jack's thoughts are believable as he spends months reliving the same horrific day, and when he finds out that time and choices are not linear, you get to see the many different ways approximately 6-7+ hours can pan out.
I thoroughly enjoyed 'Sea Sick' and would wholeheartedly recommend it for a quick, scary read.